Repaying Loans
Conditions That Initiate Repayment
Graduation
Enrollment in less than 6 units
Planned Educational Leave Program (PELP)
Cancellation or withdrawal
Break in registration
Administrative withdrawal and dismissal
Filing fee (for graduate students)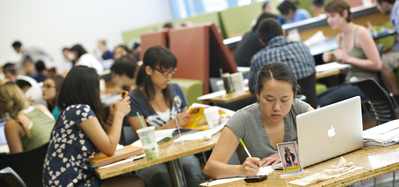 Your Checklist Before You Graduate
Complete Exit Counseling
You are required to complete exit counseling before you graduate, leave school, or drop below half-time enrollment.  For Federal Direct Student Loans, go to StudentLoans.gov.  For Perkins and Institutional Loans, go to Student Accounting.
Review Your Student Loan Borrowing History
Track your federal loans at NSLDS.ed.gov to find out your loan amounts, interest, and loan servicer in order to prepare for repayment.  For Perkins and Institutional Loans, go to Heartland ECSI.
Your Checklist During Your Grace or Deferment Period
Create a Budget
If you haven't already, create a budget and add your loans to your expenses.  Go to our Budgeting page to get help setting that up.
Select a Repayment Plan
Work with your loan servicer to choose a student loan repayment plan that best fits your needs. Visit Federal Student Aid for an overview list of repayment plans available.
Your Checklist When You Are In Repayment
Make Your Payments
Your loan servicer should have contacted you with your repayment schedule.  You have options to pay your loan off early, make interest payments, and receive an up-front interest rate reduction.  
Stay Out of Default
Contact your loan servicer if you are struggling with payments!  StudentAid.gov also provides information about repayment plans, loan consolidations, deferment, forbearance, forgiveness, and discharge.
Resolve Any Loan Problems Quickly
If you have been unable to resolve a dispute regarding your student loan, there are resources available to assist you.  For federal loans, contact the Federal Student Aid Ombudsman Group for help.  For university or private loans, contact the Consumer Financial Protections Bureau (CFPB) Student Loan Ombudsman to initiate a complaint.
Supplemental content
Glossary
Consolidation

The process of combining one or more loans into a single new loan.

Default

Failure to repay a loan according to the terms agreed to in the promissory note.  You may experience serious legal consequences if you default.

Deferment

The postponement of payment on a loan that is allowed under certain conditions and during which interest does not accrue on Direct Subsidized Loans, Subsidized Federal Stafford Loans, and Federal Perkins Loans.  All other federal student loans that are deferred will continue to accrue interest.  Any unpaid interest that accrued during the deferment period may be added to the principal balance of the loan(s).

Discharge

The release of a borrower from the obligation to repay his or her loan.

Forbearance

A period during which your monthly loan payments are temporarily suspended or reduced.  During forbearance, principal payments are postponed but interest continues to accrue.  

Grace Period

A period of time after borrowers graduate, leave school, or drop below half-time enrollment where they are not required to make payments on certain federal student loans.

Interest

A loan expense charged for the use of borrowed money.  Interest is paid by a borrower to a lender.  The expense is calculated as a percentage of the unpaid principal amount of the loan.

Lender

The organization that made the loan initially; the lender could be the borrower's school; a bank, credit union, or other lending institutions; or the U.S. Department of Education.

Loan Servicer

A company that collects payments, responds to customer service inquiries, and performs other administrative tasks associated with maintaining a federal student loan on behalf of a lender.