The UC Davis Submission Tool allows you to submit documents electronically to UC Davis Financial Aid and Scholarships.
Please review the following steps before continuing to the Submission Tool:
1. Register with your student information before requesting an appeal. Once you are logged on, you may request an appeal by selecting the "+ - Request" button.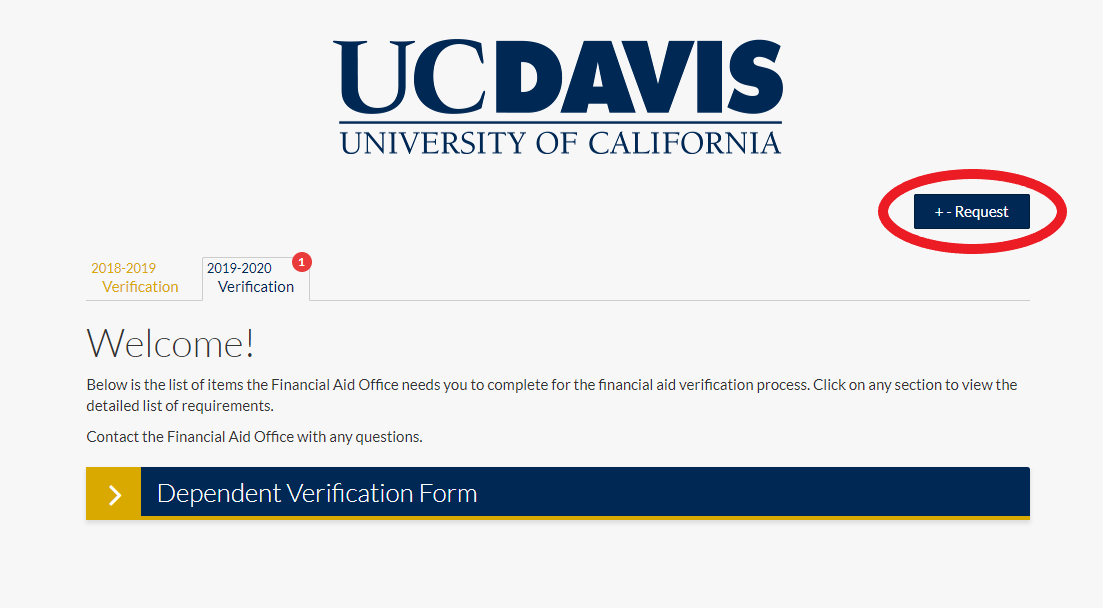 2. When requesting an appeal, please specify the term, and SAP standard(s), you are appealing. Review SAP standard(s) in MyAwards under the Academic Progress tab. Please note, Summer appeals are on exception only.
3. Once the request is submitted, students will see the documents needed before completing the appeal submission process. Please be prepared to complete the following:
     a. SAP Appeal web form that includes a statement
     b. Third Party Documentation supporting the circumstance noted in the statement.
After Financial Aid and Scholarships reviews appeals, additional documentation may be requested. This additional request will also be labeled as "Third Party Documentation." 
4. Once all appeal documents are uploaded, click the "Submit" button, then the "Finish" button.  
If additional documents need to be added to an appeal, after it has been submitted; students should submit them via Contact An Expert. 
To request an appeal, continue to the Submission Tool.