Appeal for Increased Cost of Attendance and Additional Loan Funding
Students may experience unforeseen expenses during an academic year that are not accounted for in the typical estimated cost of attendance. This form is used to identify expenses and request additional loan funding.
Alternative Budget Request
Students who are married, or have dependent children age 18 and under, are eligible for an increased budget to cover additional family expenses and can complete an Alternative Budget Request form.
Examples of Allowable Expenses
 Receipts must be submitted for all documented expenses. 
ALLOWABLE EXPENSES
HOUSING 
Housing costs that exceed the basic student budget for reasonable, justified living accommodations are acceptable. However, you are expected to seek housing within the budgeted housing allowance. If you have roommates, your costs will be divided by the number of roommates. Acceptable additions to this category include: 
Excess rent: a copy of your lease agreement
Homeowner's or renter's insurance premiums: proof of payment, copy of the policy
Proof of payment: receipts, billing statements for three months for:

Basic PG&E/SMUD
Basic telephone costs
Basic internet costs
MEDICAL, DENTAL, AND OPTICAL 
A medical, dental, and optical allowance for expenses not covered by insurance is included in the "Personal Expenses" category of the basic budget. Appropriate documentation for additional projected expenses or expenses that occur during the academic year include: 
Healthcare provider's billing statements showing cost, date of treatment, and the amount paid
Copy of insurance policy (for student's premium cost)
Proof of payment by student or parent
Projected expenses that occur during the academic year will be considered when you present a signed healthcare provider's statement, written on letterhead, indicating: 
Treatment required
Cost
Scheduled date of treatment
REQUIRED EDUCATIONAL COSTS 
In addition to the basic "Books and Supplies" category of the student expense budget, acceptable additions include: 
Required reference texts
Required special equipment/supplies
Required research costs
COMPUTER PURCHASE
In keeping with the UC Davis Computer Ownership guidelines, Financial Aid and Scholarships can provide eligible undergraduate and graduate Free Application for Federal Student Aid (FAFSA) filers and undergraduate California Dream Act Application (CADAA) filers at UC Davis with a computer loan for up to $2,500 with a quote of the total purchase of the computer. This loan can be requested once during a student's academic pursuit at UC Davis. 
TRANSPORTATION 
The basic student expense budget covers the moderate cost of public transportation for incidental travel to and from your parents' or your home, and an annual bicycle license. Transportation costs must be educationally related. Acceptable additional expenses may include: 
Transportation costs required by an academic program, unusual medical condition, or other reasons directly related to educational needs (supporting statements from an academic advisor may be requested)
Costs of commuting to UC Davis from surrounding communities or visiting family and/or commuting to work/internship from surrounding communities. Be sure to include:

Estimated mileage per trip (indicate whether one-way or round trip)
List starting and ending addresses
Number of trips and total mileage

Cost of car insurance for the student that exceeds the current budget allotment
Quarter(s) you will incur extra travel expenses
Receipts for travel expenses
LIFE INSURANCE 
Life insurance premiums are allowed for the student and/or dependent children of the student. Proof of life insurance premiums in the student's name is required. 
Examples of Expenses Not Allowed
Cable bill
Credit card debt
Car payments
Trips for entertainment purposes
Cost of Attendance Appeal Instructions
StudentForms allows you to submit documents electronically directly to UC Davis Financial Aid and Scholarships.
Please review the following before continuing to StudentForms:
1. You will need to register with your student information before requesting a Cost of Attendance Appeal. Once you are logged on, you may request the appeal by selecting the "Manage Requests" button.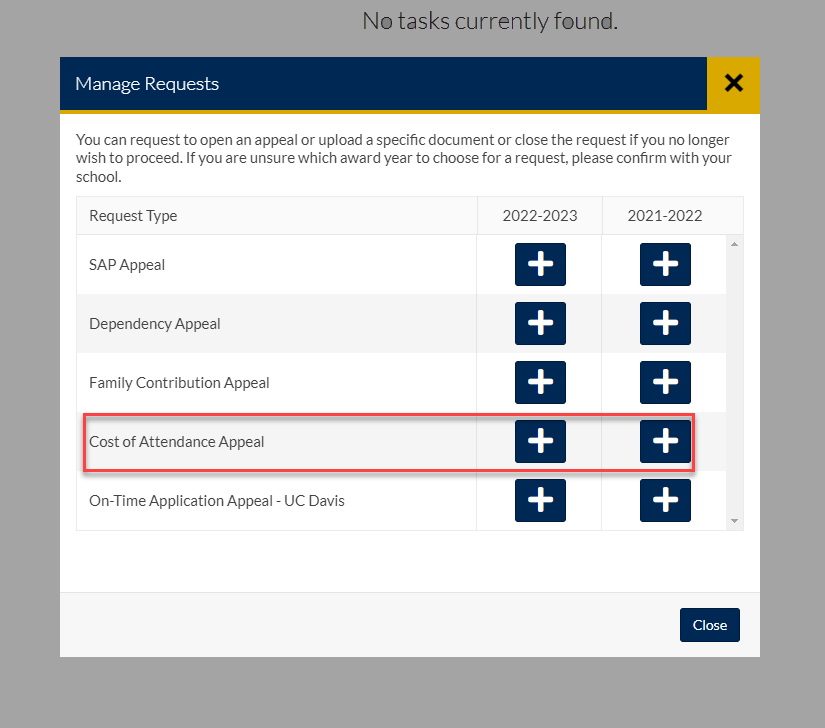 2. When requesting the Cost of Attendance Appeal, you will need to enter an explanation for the request. This is not your appeal statement, so please keep your explanation brief.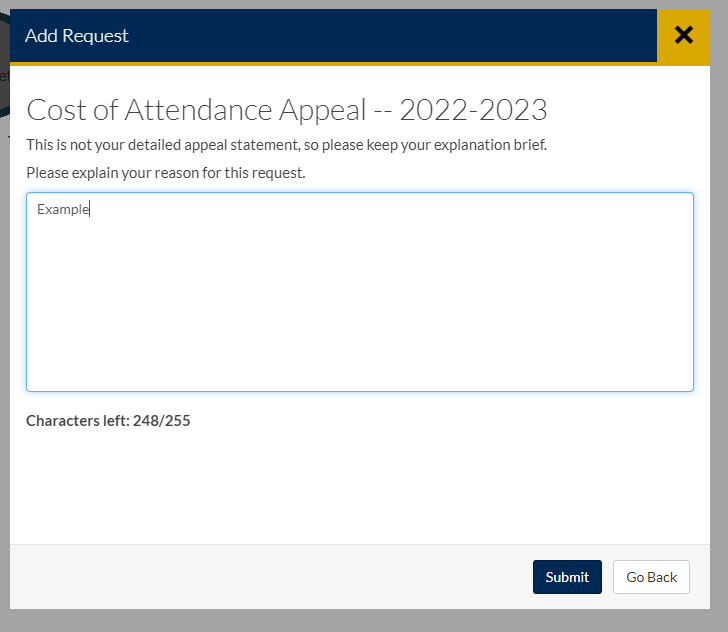 3. You will need to provide a detailed statement that includes an explanation of the circumstances for which you are appealing. Please note, you will be required to upload supporting documentation in support of the appeal being submitted (i.e., lease agreements, utility bills, medical expenses, etc.). 

4. Once all appeal documents are uploaded, click the "Submit" button, then the "Finish" button.  
Financial Aid and Scholarships will begin reviewing these appeals on October 5, and the review process can take up to 4-6 weeks.